See on Scoop.it – Medicine in Pictures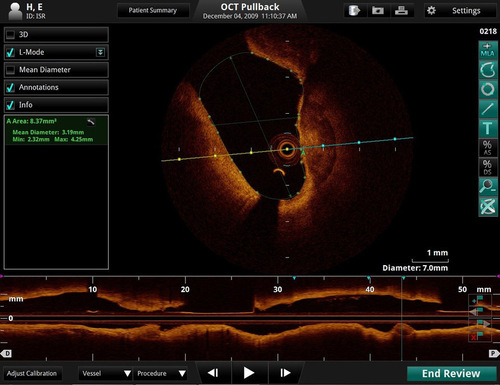 After more than 20 years of academic research and industrial development, optical coherence tomography has found a new home in the interventional cardiology suite.
If one were to ask a physician to describe an ideal medical imaging technology, the resulting wish list might include high resolution, high sensitivity, and rapid acquisition speeds, all delivered at low cost with minimal risk to the patient in a platform that is simple and easy to use. Neglect any one of these requirements, and the technology in question might at best be relegated to a niche research role. Since its invention in 1991 by a research team led by James G. Fujimoto at the Massachusetts Institute of Technology (MIT), optical coherence tomography (OCT) has promised to meet the imaging requirements of a diverse range of medical specialties from gastroenterology to neurosurgery.1 OCT is an interferometric optical imaging modality, somewhat analogous to ultrasound, that provides cross-sectional and 3D images of biological tissue with extremely high resolutions reaching down to the micron scale. After finding initial widespread commercial success in ophthalmology, however, researchers and companies have struggled to develop the next viable market for the technology.
Source: http://spie.org/x89050.xml?highlight=x2416&ArticleID=x89050
See on spie.org