See on Scoop.it – Medicine in Pictures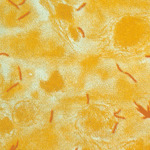 A natural compound found in soil kills antibiotic-resistant Mycobacterium tuberculosis.
Current antibiotics are rapidly losing their medicinal potency as bacterial strains continuously mutate, rendering them resistant to treatment. Over 8.8 million people are infected with Tuberculosis (TB) and 1.4 million people die from the disease each year.
TB poses an even greater global health threat as it becomes increasingly untreatable due to widespread drug resistance.
Alternative treatments are desperately needed, which is why a group of scientists working in Switzerland have dedicated their research towards developing a new drug made from a product secreted by soil bacterium, called pyridomycin.
Source: http://scienceillustrated.com.au/blog/medicine/fighting-tuberculosis-with-soil-bacterium/
See on scienceillustrated.com.au