See on Scoop.it – Medicine in Pictures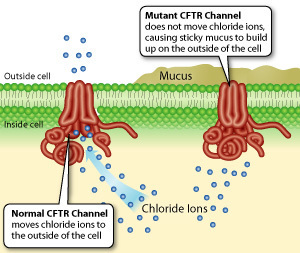 Cystic fibrosis is a genetic disorder that affects the respiratory and digestive systems.
People with cystic fibrosis inherit a defective gene on chromosome 7 called CFTR (cystic fibrosis transmembrane conductance regulator). The protein produced by this gene normally helps salt (sodium chloride) move in and out of cells. If the protein doesn't work correctly, that movement is blocked and an abnormally thick sticky mucus is produced on the outside of the cell. The cells most seriously affected by this are the lung cells. This mucus clogs the airways in the lungs, and increases the risk of infection by bacteria.
The thick mucus also blocks ducts in the pancreas, so digestive enzymes can't get into the intestines. Without these enzymes, the intestines cannot properly digest food. People who have the disorder often do not get the nutrition they need to grow normally.
Finally, cystic fibrosis affects the sweat glands. Too much salt is lost through sweat, which can disrupt the delicate balance of minerals in the body.
See on learn.genetics.utah.edu