See on Scoop.it – Medicine in Pictures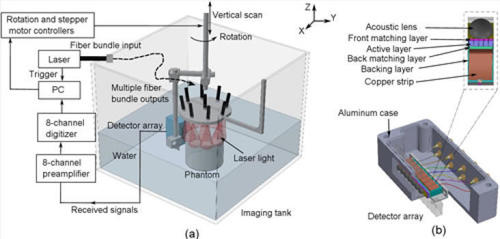 Breast cancer is one of the most common forms of cancer and cancer deaths among women worldwide. Routine screening can increase breast cancer survival by detecting the disease early and allowing doctors to address it at this critical stage.
A schematic illustration of the imaging system and the ultrasound detector. (Credit: Wenfeng Xia, Biomedical Photonic Imaging group, University of Twente)
f effective, the new device, called a photoacoustic mammoscope, would represent an entirely new way of imaging the breast and detecting cancer. Instead of X-rays, which are used in traditional mammography, the photoacoustic breast mammoscope uses a combination of infrared light and ultrasound to create a 3-D map of the breast. The researchers describe their device in a paper published today in The Optical Society's (OSA) open-access journal Biomedical Optics Express.
See on www.sciencedaily.com