See on Scoop.it – Medicine in Pictures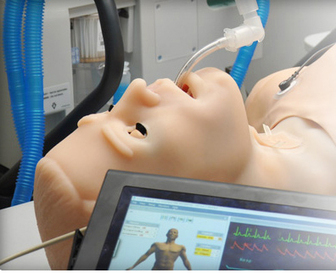 Motion Computing, a mobile technology provider, has announced that McLennan Community College in Waco, TX, is now using Motion tablets to control Gaumard® simulation mannequins to help prepare medical field students for a variety of field and in-facility treatment scenarios. Approximately 3100 students a year pass through the simulation training areas, including nursing, paramedic, and surgical students.
Simulation training is a key part of a healthcare professional's education. Before McLennan had the Motion tablets controlling the mannequins' actions, simulation mannequins were tethered, so the instructor had to manually control them and run the scenario next to the bedside. This decreased the sense of realism. Today, Motion tablets are equipped with Gaumard software designed to power the mannequins' actions through radio frequency and monitor vital signs through a Wi-Fi connection. The communication, power supply, and compressor remain inside the mannequin, making the training more comparable to working with a real patient. McLennan faculty and staff program the mannequins to behave a certain way and respond accordingly based on treatment provided by the student. Faculty can either program the mannequins ahead of time or make adjustments in real-time for active response simulations.
See on www.9-1-1magazine.com